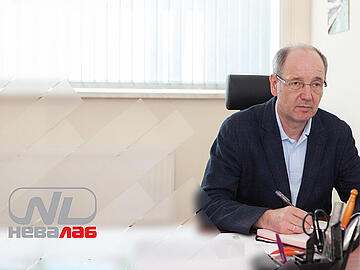 A Strong Partner for the Energy Industry
Nevalab is one of the leading laboratory suppliers in the Russian environmental and energy industry. The company is a long-time partner of Analytik Jena. We spoke to CEO Anton Maydurov about the cooperation over the years and how this partnership pushed the analytical standards in the energy sector to new heights.
Mr. Maydurov, where do you set your business focus, what are your priorities and core competencies?
We offer our customers turn-key solutions for their laboratories. This includes engineering, construction, equipment, commissioning, application support, and staff training. Our main market is the energy sector, especially power plants and the oil and gas industry. We also supply governmental and industrial environmental labs with equipment and expertise. If you serve such demanding industries, it is of utmost importance that you have highly skilled personnel and instruments that provide a competitive advantage. Therefore, our employees are experts in analytical chemistry and other related areas. We strive to constantly develop the skill set of our staff and have established several training and development initiatives for our team. In terms of instruments, we are working with a selected group of partners such as Analytik Jena to offer our customers unique instruments and effective solutions for their application challenge. Customer satisfaction is a key priority for us. To continuously increase the satisfaction level, we have introduced a wide range of parameters to monitor and improve it.
Which Analytik Jena products and/or services do you provide in your region?
We offer large parts of the analytical instrumentation portfolio of Analytik Jena – from elemental and TOC analyzers to atomic spectrometers. The elemental analyzers of the multi EA series or the compEAct systems we provide mainly to oil refineries and laboratories that monitor the quality of oil at production sites. The atomic spectrometers and TOC analyzers are very popular among our energy laboratory customers.
When did you first encounter Analytik Jena and how did the cooperation start?
Analytik Jena as a provider of analytical equipment has been known since the Soviet Union. The equipment was first presented to us in training laboratories at the department of Analytical Chemistry of St. Petersburg University. After the foundation of Nevalab in 2002 we decided to approach Analytik Jena to propose a partnership which fortunately came about. Analytik Jena has been one of the priority partners for us ever since.
How would you describe the partnership between your company and Analytik Jena over the years?
The cooperation is great, supportive and highly beneficial for both of our two companies. It brings new knowledge to Nevalab and to the Russian laboratory market. The high-tech equipment developed and manufactured by Analytik Jena has been highly influential on the development of our company and the enterprises we cooperate with. The team in Jena and our main contact there is easy to reach, and they provide us with great support and solutions for our customers.
Can you describe a few highlights of the cooperation between Nevalab and Analytik Jena?
There were a lot of highlights throughout the years. What stands out was the government certification of a TOC determination method with the multi N/C UV HS in industrial waters and promoting this method in the energy sector. This allowed us to reach a closer cooperation with energy laboratories. The introduction of the contrAA in the energy sector was another great success. This atomic spectrometer has unique capabilities and technical characteristics that helped us to increase our competitive advantage in this industry. The UV/Vis spectrophotometers of Analytik Jena must be mentioned as well. They are incredibly popular in laboratories of the energy sector. There were many successful events and projects and more are still to come.
Where do you see the advantages of Analytik Jena equipment for your customers?
The multi N/C series is able to quickly and easily determine a multitude of parameters such as TOC, NPOC, POC, TC, TIC and TNb without any system conversion. In addition, it is fully compliant to national and international standards. It is also reliable and provides best sensitivity for various applications. All these aspects are highly valued by our customers. The multi EA series is also in very high regard among our customers. The elemental analyzers solve more analytical tasks than those of competitors.
The atomic spectrometry product line of Analytik Jena is truly unique and provides our customers with benefits they cannot find in competitor products. The contrAA is a shining example for this. This is, simply put, the best AAS system in the world. The contrAA is positioned between traditional AAS and ICP-OES and integrates the best qualities of both methods: fast sequential and simultaneous multi-element analysis, simplicity and cost-effective operation. The novAA is popular for different reasons. Customers value its cost-effectiveness, reliable operation and the high degree of automation of the analysis process.
Anything else you might want to add?
I hope our cooperation will be as close and strong in the future as it was in the past and is today. Together we will continue providing the best analytical equipment and to the Russian laboratories and increase customer satisfaction even further. 30 years Analytik Jena is a huge milestone. We wish you good fortune for next 30.
Thank you for the interview.
About Nevalab
Nevalab is a group of several companies dedicated to ensuring effective and safe laboratory research for its customers by supplying modern high-end analytical equipment. The group was founded in 2002 and today is one of the leaders in constructing and equipping laboratories in the oil and gas, energy, and environmental sector in the Russian Federation. A team of about 150 highly qualified specialists provides customers with installation, application support, training, preventive maintenance, and repairs through the whole life cycle of a product. The company cooperates with a selected group of manufacturers of laboratory equipment, reagents and supplies.
The newsletter of Analytik Jena frequently keeps you posted about:
News
Trends and developments
Events