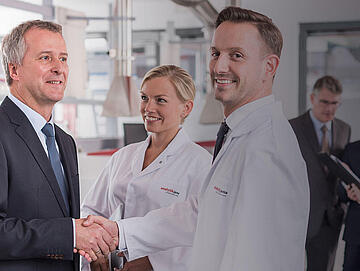 Our Customers
In good hands with Analytik Jena
Time for service
The requirements, needs, and wishes of our customers serve us as a compass for our business activities. Whether in the further development of the product portfolio, questions of strategic orientation, or regarding service and support, the satisfaction of our customers is our highest priority. We provide our customers with our user knowledge wherever they need it. And we learn from them as well. A win-win situation!
Seongnam Water Quality Restoration Center is a sewage treatment plant in Seongnam-si, Gyeonggi-do, a large city in the greater Seoul area. When Korean regulations specified TOC a mandatory parameter in wastewater analysis in 2021, the center decided in for Analytik Jena's multi N/C analyzers and is successfully using them.
"We use CyBio SELMA for good-quality DNA from heterogeneous quality plant samples, achieving good PCR results in a very short time frame. The device has proven to be robust even in continuous operation. Since we integrated CyBio SELMA into our workflow, we hardly perform any manual methods," says Dr. Devaraja Achar, Head of Biotechnology at Indo-American Hybrid Seeds, one of the hybrid seed producing companies in India.
IHU Geologie and Analytik GmbH (IHU) has established itself as a strong partner for contract analysis in northern Saxony-Anhalt and neighboring regions. For many customers from the public and private sectors, the chemical laboratory is the primary contact for environmental analysis, while the soil mechanics laboratory is the primary contact for geoanalytical analysis. IHU, which is known for its customer focus and high analytical quality, upholds this reputation with technology from Analytik Jena.
Prof. Ralf Küppers was one of the first scientists to have established single-cell-PCR as a standard methodology. For his research, Prof. Küppers has been placing his trust in the PCR expertise of Biometra and Analytik Jena for over 30 years.
DKMS LIFE SCIENCE LAB relies on a unique CMV analysis method and flexible automation solutions to match leukemia patients with the best possible stem cell donors. In order to automate a new, internationally unique CMV genotyping method, DKMS trusted in the expertise of Analytik Jena.
Transporter proteins are highly relevant targets for pharmaceutical research. For a long time, high-throughput screening of electrical currents of these proteins was difficult until Nanion Technologies introduced a new screening platform to overcome this challenge. A key role in this new instrument plays the CyBio FeliX pipetting platform by Analytik Jena.
ForGen is a leading forensic laboratory based in Hamburg, Germany. For the extraction of minimal traces of DNA for veterinary diagnostics, the lab trusts in Analytik Jena's innuPREP AniPath kits.
"We have been using the InnuPure C 16 for a great variety of samples, and we can confirm consistently high isolation rates of DNA. The device has proven to be robust, even in continuous operation. Since we put it in practice, we have hardly ever used manual methods", said Dr. Dirk Vollenbroich, CEO of Minerva Biolabs, a leading biotechnology company for the development and marketing of detection and elimination kits.
ICP-MS for research purposes at the University of Münster
The Analytical Chemistry working group at the University of Münster works on the development and application of new analytical methods to identify substances of pharmaceutical and biomedical significance. Coupling techniques using various components are employed in this area, with ICP-MS technology playing a major role.
"Each sample is completely combusted and free of residue. This is the best basis for reliable measurement results. And at the same time, we save money in the development of methods as the flame sensor makes it possible for each sample, in various volumes, to be oxidized quickly and simply without knowing its exact combustion characteristics," explains Peter Frenzel, Site Analytical Leader and Quality Manager at Dow.
Major cost savings for Blumenfield Science
"We chose PlasmaQuant MS because it offers high sensitivity for the identification of metals from a broad spectrum of liquid and solid samples with diverse and complex matrices. An additional factor is the short analysis time. Argon consumption is low compared with other ICP-MS devices, which has led to substantial costs savings for us."
"The multi N/C 3100 is well suited for the analysis of all kinds of water – from ultrapure and drinking water through to industrial waste water. This is not a great challenge for the instrument even if the water samples have a high level of salt or particles. The instrument is robust and holds up to everyday use," says Dr. Ralph Zimmer, Lead Analytical Manager Dow Böhlen. It all began with a leap of faith: When Dow placed its first order with Analytik Jena before the turn of the century, Analytik Jena had just begun to gain traction in its first markets. Now Dow Group makes use of analytical measuring technology from Jena at their sites all around the world.
The newsletter of Analytik Jena frequently keeps you posted about:
News
Trends and developments
Events