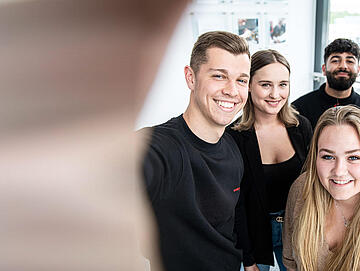 Shape the future.

Find an apprenticeship, dual study program or internship at Analytik Jena!
From school to practical experience
You have finished school and would now like to start your professional career?
Then Analytik Jena is the right place for you! At Analytik Jena, you have the opportunity to choose from a wide range of apprenticeships in the commercial and technical fields.
During your training, our rotation program offers you the opportunity to gain insights into many departments. In this way, you will learn exactly which area of the company you enjoy the most.
We offer you a secure job with a high takeover rate as well as opportunities for further training after your apprenticeship. Our benefits make your training with us perfect!
Still unsure? Then simply get to know us better during an internship.

commercial internship technical internship
Our offer for apprenticeship
Specialist for office management (f/m/d)
Industrial clerk (f/m/d)
Specialist for wholesale and foreign trade (f/m/d)
Warehouse logistics specialist (f/m/d)
Production mechanic (f/m/d)
Materials tester for systems engineering (f/m/d)
Mechatronics technician (f/m/d)
Electronics technician for devices and systems (f/m/d)
Dual degree course
Are you looking for an alternative to traditional university studies and would like to combine theory and practice?
Then a dual study program at Analytik Jena is the ideal way to start your career!
We offer you exciting tasks and projects with a high level of personal responsibility, insights into various departments, a friendly working atmosphere, and many other benefits.
Still unsure? Then simply get to know us better during an internship.

commercial internship technical internship
Our offer for dual studies
Dual Study International Business Administration (f/m/d)

Dual Study Industry (f/m/d)

Dual Study Production Engineering (f/m/d)

Dual Study Environmental Engineering (f/m/d)

Dual Study Business Informatics (f/m/d)

Dual Study Practical Computer Science (f/m/d)
Your benefits
Payment of semester fees for dual students
Flexible trust-based working time model
Events and trade fair visits
exam preparation with learning platform
What our employees say
"Our apprentices are given actual problems to solve"
"Analytik Jena is not a test workshop – our apprentices are relatively quickly given responsibilities and actual problems to solve. We view them as part of our team and thus create a good foundation for entering the working world."
Vicktoria Barth, HR Business Partner and Apprentice Supervisor
"It never gets boring!"
"I especially like the cooperation in my nice team. In addition, every day offers new, varied tasks and it never gets boring."

Eric Becker, Trainee Warehouse Logistics Specialist
"Exciting topics from the very first practical phase".
"Even in my first practical phase, I had exciting topics. I was able to optimize processes for key users in the ticket system of our ERP system."

Kai Wiechert, Dual Student Process Controlling
"Welcomed with open arms"
"What I like best about Analytik Jena is that you are welcomed with open arms by your colleagues and that you have the chance to try things out and to master challenging tasks. You always have the opportunity to further your education and gain new experience here."

Emely Schneider, industrial clerk trainee
previous
next
Are you looking for an internship, a student job or would you like to write your thesis with a close practical connection?
We would like to meet you! If you are interested, now is your chance to impress us! We look forward to getting to know you.
The newsletter of Analytik Jena frequently keeps you posted about:
News
Trends and developments
Events