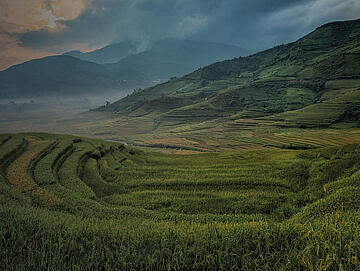 Legal and uncomplicated
For the safe consumption of recreational and medicinal cannabis
Analytik Jena US LLC
It's not that easy to determine exactly how far back Analytik Jena's history goes in the United States. Its former subsidiary UVP was founded back in 1932 in Upland, California, and was acquired by Analytik Jena in 2006. CyBio AG was the company's East Coast subsidiary and merged with Analytik Jena in 2014. The company's units in the US were combined into Analytik Jena US, LLC on January 1, 2018, which had a staff of 131 as of the end of February 2020.
For the safe consumption of recreational and medicinal cannabis
In one US state after another, legal barriers to the use of cannabis have been falling in recent years. A previously illegal drug, the processed plant has increasingly developed into a medical product as well as a socially accepted recreational drug.
Regardless of whether it's alcohol or other substances that are approved for human consumption in appropriate quantities, we and our families and friends should be able to consume them without having to worry.
Legalization is thus connected to stricter health and safety standards for the substance. The cannabis market is therefore one of the fastest-growing sectors for analysis equipment in the United States.
Concentrations of heavy metals need to be restricted in the process since cannabis plants absorb elements such as arsenic, cadmium, lead, and mercury from the soil, water, and air. When it comes to producing cannabis oils, the extraction process is of additional concern as it makes use of chemicals not permitted in the finished product.
Analytik Jena elemental analyzers, and the PlasmaQuant PQMS series in particular, can indeed now be found in an increasing number of cannabis test labs, which have been sprouting up across the country to ensure compliance with safety standards.
If you work in the United States …
… you'll be able to kick balls around in the hall.
A playful attitude is prevalent there, and when the former UVP staff joined Analytik Jena, the longstanding team stayed together with both their serious and playful sides. As Dr. Monde Qhobosheane, who has headed the team since 2018, put it: "We have a lot of funny people here. And friendships have taken off over the years. People are always bringing food to work, things like homemade cookies."
… you will go swimming.
There is a pool party in the summer, the idea being to make sure everyone gets completely soaked. "Then everyone behaves just like kids!" says Myrna Espiritu.
In my element
Deeanne Gunnemann
Director of Operations & Human Resources, Upland, California
Workwise, I'm in my element …
when I bring peoples' ideas to life. When, for example, one of our welders came up to us with an idea of how to improve a product, saying "I know I'm not an engineer, but ...," we managed through teamwork to implement his idea on short notice, leading to less waste, less reworking, and less production time. I now wear two hats, being responsible for human resources as well as for manufacturing, and I like to make sure we make a diff erence in the world.
Privately, I'm in my element …
well, there are a lot of things. My husband and I both have partial German ancestry, and we are members of the German-American Mardi Gras association and Gauverband. As a Karneval Tanzpaar, we've even performed in Germany. We're also active Schuhplattler. I enjoy breaking the sound barrier with my bullwhips and Aperschnalzen, a Bavarian whip. So, I'm an HR executive who can crack the whip and I speak just enough German to scare my colleagues.
For the anniversary …
I'd bring my husband and we could perform a dance, perhaps a Karneval "skit" dance or one of our old Tanzpaar routines.
Jeff Graham
North America Sales Manager, Houston, Texas
Workwise, I'm in my element …
when we ask the right questions that lead us to succeed. Given that in our business, it might take months before a deal is fi nalized, it's important not to miss anything. I like to solve problems that nobody else can, and it helps that I get the feeling that my work is valued.
Privately, I'm in my element …
when I'm able to spend time with my children, two of whom are married now and have overcome my poor parenthood to become responsible adults. And I'm in my element when I'm in my apron, slicing and dicing for barbecue competitions, and serving food to people at Super Bowl potlucks or at cookoffs.
For the anniversary …
I'd bring barbecue, and now that I've even experimented with vegetarian barbecue food, with smoked ratatouille, oregano vinaigrette, and jackfruit, I could cater to all of our staff around the world.
Myrna Espiritu
International Sales Manager, Upland, California
Workwise, I'm in my element …
when we're making things happen. In my 21 years working here, moving with all the ups and downs of sales, I've never really noticed how the years have fl own by. I'm now practically part of the furniture! We do tend to put down roots here because this is a place that supports us and encourages us to stretch ourselves to be the best we can.
Privately, I'm in my element …
when I get to cook and entertain friends. Since I travel a lot for work, I consider it a blessing that business allows me to indulge in my other passion: international cuisine. I adore Thai and Japanese food! But I also delve into my native cuisine of the Philippines, where I came from 32 years ago.
For the anniversary …
I'd bring a fusion of Thai and Filipino cooking. My daughter is an architect in New York where people pay around $70 for the kind of food I prepare!
The newsletter of Analytik Jena frequently keeps you posted about:
News
Trends and developments
Events