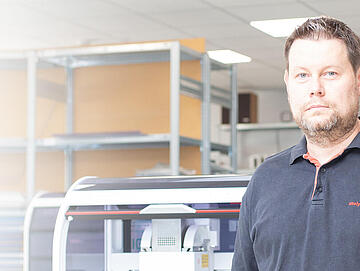 Interview Kai Stöcker
Operational Technician & Deputy Production Manager
The Right Combination
Kai Stöcker is an operational technician and deputy production manager for Liquid Handling & Automation solutions at Analytik Jena. In our interview, we talk about his career, challenges in the job and what drives him.
Mr. Stöcker, how did you come to work for Analytik Jena? How did it all start?
From 2001 to 2003, I retrained as a mechatronics engineer and was placed through a temp agency in the company CyBio in Jena. In March 2005, I got a permanent position as a mechatronics engineer for the commissioning of devices. In 2013, I was given the opportunity to develop professionally and take on more responsibility as Deputy Production Manager. In 2014, Analytik Jena took over CyBio AG. Since then I have been part of the Analytik Jena family.
What was your first impression of the Company? What did you think of the atmosphere?
I was (and still am today) thankful that CyBio gave me the chance and the trust in 2005 to realize and develop my career as a mechatronics engineer. I experienced a positive working atmosphere and felt valued right from the start.
Can you briefly describe your work for the Company? What issues do you deal with and what challenges do you face every day?
My main responsibility is the commissioning of products from the Liquid Handling & Automation unit. This means that I set up the devices and automation systems according to customer requirements, implement them – sometimes on site with the customer – and pre-install the electrics so that my colleagues in Software Support can take over. The complex, varied and customized automation systems are especially challenging.
Another challenge is the daily managerial responsibility of being Deputy Production Manager. For example, this includes the coordination of and communication with colleagues and the general management of personnel.
What do you particularly like about your work?
The independent technical work, the diversity and daily challenges in my tasks. They always remind me that I've made the right career choice.
How has your work for Analytik Jena changed over time? How has Analytik Jena changed over time?
Thanks to increasing responsibility and the variety of tasks, professional training for managers and my academic degree as a technician, I have been able to continuously develop myself personally and professionally. After joining the Endress+Hauser Group, the Company introduced and revised many new structures and processes. The Liquid Handling & Automation area has developed into a very important part of the Company over time. I hope that this continues in the future and that the area maintains its strong innovative power.
What goals do you have? What else do you have planned for your career?
I would also like to keep installing high-quality Liquid Handling products and automation solutions and contribute to the Company's success in this way. Continuous professional advancement is imperative for me.
What motivates you? What drives you?
Passion for my job is my daily drive. Responsibility, recognition, development opportunities and successes are other motivating factors.
How do you motivate your team?
I try to be a good role model by exemplifying trusting cooperation and appreciative communication, and by creating a transparent and positive working atmosphere.
What do you do to really switch off?
Time with my family is important to me.
Is there an event or personal highlight that stands out in your time at Analytik Jena?
I would like to highlight the building and installation of two large automation systems that we did for a well-known pharmaceutical company. My studies as a technician is another personal highlight in my life that I am very proud of. This was a particular challenge because I was severely ill during my studies.
Thank you for the interview.
The newsletter of Analytik Jena frequently keeps you posted about:
News
Trends and developments
Events