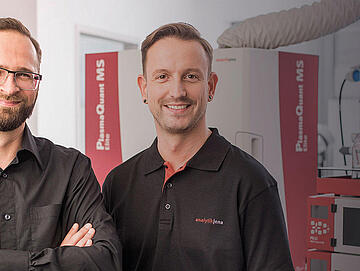 Technical Support
We provide rapid and competent assistance
Maintenance
Maintenance ensures a long life for your analytical instruments
In order to ensure stable measurement results in the long term and high sample throughput, regular inspection and maintenance of analytical instruments is indispensable. Our services match your needs perfectly. We offer service and maintenance packages that are specifically tailored for your situation. The choice of services is up to you. We address your requirements and your budget in a targeted manner. Just ask!
Your benefits:
Value retention for your device system
Quality assurance for analysis results
Save time and unplanned costs
Ensuring work in compliance with industry and ISO standards
Maximum system availability
Safety for your personnel
Individual maintenance intervals and service levels
Service by appointment – we call you
Cost transparency and planning certainty for your budget
You can do something too
Our specialists can provide you with training suited to your particular needs, including both technical basics and particular applications. This will enable you to carry out minor maintenance and repairs on your own. Best of all: Carrying out regular maintenance of your systems increases their lifespan and helps reduce costs!
Equipment qualification
Competent support from our sales advisors and Service & Support employees makes it easy for you to choose the right analytical measuring technology in accordance with your requirements. In addition, we can assist you with qualification and offer numerous services that can make supervision of your devices easier after procurement.
More information on qualification of devices and the services Analytik Jena offers in this area can be found in our brochure on equipment qualification.
Repairs and restoration
Quality is our calling! Nevertheless, if it ever becomes necessary to repair or restore your devices from Analytik Jena, we are happy to assist as a matter of course. Prompt repair and restoration of laboratory instruments guarantees the precision of your results and helps to maintain the durability and consistent performance of the devices. Of course, the processing of a service case should be carried out as pleasantly for you as possible. However, we rely on several pieces of information from you. Please speak with us in person or fill out our service form and send it to us. We will get in touch with you as quickly as possible.
Decontamination
In order to comply with German law (i.e. section 71 StrlSchV [German Radiation Protection Ordinance], section 17 GefStoffV [German Hazardous Substances Ordinance], and section 19 ChemG [German Chemicals Act]) and to prevent exposure to hazardous substances, the decontamination certificate must be enclosed before delivery of the product. The declaration must be affixed outside of the packaging. Products without this form will be returned to the sender subject to charge.
Additional warranty
We extent your warranty
We extend your warranty free of charge to three years for many selected thermalcyclers. Register your product and benefit from the extended warranty. Quickly and easily – free of costs and obligations. You will run no risk.
Use the TeamViewer tool for remote diagnosis and repair
Please read first and then use.
Download TeamViewer QuickSupport
Service hotline and contact How can we help you?
+49 3641 77 7407
service@analytik-jena.com
The newsletter of Analytik Jena frequently keeps you posted about:
News
Trends and developments
Events