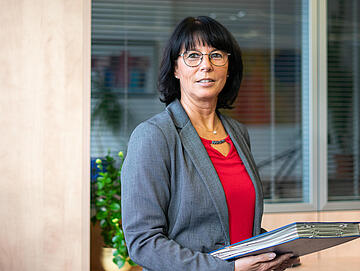 Interview Sabine Range
Assitant to Managing Director and COO
Organizational Talent
Sabine Range is an executive assistant to the Managing Director and COO at Analytik Jena. In this interview, she explains how her career with the Company began, how she made her way to executive assistance with little detours and how she deals with stressful situations.
Ms. Range, how did you come to work for Analytik Jena? How did it all start?
I started at Analytik Jena in 2012. I had previously worked as a paralegal at a law firm. However, I was drawn to the industry and applied as an assistant in the legal department at Analytik Jena. The legal assistants and the executive assistants were in the same office so we helped each other out. This is why I was already familiar with the work of an executive assistant. My position was to cover parental leave with a limited contract, but my supervisor at the time was very supportive and I ended up in financial accounting as a lateral hire. I was really pleased about that because I had enjoyed my time so far at Analytik Jena. In 2015, I changed from accounting to the Executive Board secretariat.
What was your first impression of the Company? What did you think of the atmosphere?
It was a very pleasant atmosphere. You got the feeling that we were all one big family.
Can you briefly describe your work for the Company? What issues do you deal with and what challenges do you face every day?
My work is very diverse and comprises many operational activities. I coordinate appointments, plan meetings and organize business trips for the Management Board. In addition, I help to process business trip applications and am the contact person for insurance issues. My colleague Monika Dobrick and I are also responsible for most of the trip management. All kinds of organizational tasks come along with this, like preparing for appointments and tidying up after them or communicating with colleagues. Even some tasks from the legal department are the responsibility of the Management Board secretariat.
One of the biggest challenges in my job are last-minute meetings. I have to figure out fast what they're all about and who from the Company should be invited. It can often be very difficult to find a time that works for everyone. Last-minute adjustments and the like are also common. Over time I have come up with a great routine for these situations.
What do you particularly like about your work?
I especially like working with Monika Dobrick, my colleague in the Managememt Board secretariat. Although we don't see each other often due to the coronavirus restrictions, nothing gets lost between us and we continuously supply each other with information. We make a really good team and can always rely on each other. We also support each other in stressful situations. Knowing that there is always someone there helps me tremendously with the pressure that can arise now and then.
How has your work for Analytik Jena changed over time? How has Analytik Jena changed over time?
The integration of the Endress+Hauser family changed some things, of course. Digitalization is pushing forward and working processes are changing along with it. This is a good development. My tasks have changed a great deal since I started. Not just because I moved from the legal department to accounting and now to the Management Board secretariat. All processes have changed through digitalization.
What goals do you have? What else do you have planned for your career?
I want to be up to date when it comes to digitalization and get more familiar with the new systems and tools. I find that exciting.
What motivates you? What drives you?
I find the daily exchange and contact with my colleagues to be very motivating. I also have the feeling that the Company takes good care of its employees – an example of this is the support we received during the current coronavirus pandemic. I'm pleased to be able to work in a Company that is so careful to protect my health as best as possible. This motivates me and I would really like to give something back.
What do you do to really switch off?
Usually I exercise regularly. However, this isn't so easy given the current pandemic situation. My husband and I take many long walks in nature instead. To switch off, I also like to read.
Is there an event or personal highlight that stands out in your time at Analytik Jena?
My personal highlight came in 2015 when I had the opportunity to move from financial accounting to the Executive Board secretariat. Another general highlight was the summer party a few years ago. Since the Supervisory Board and Mr. Endress himself were also here on the occasion of Mr. Berka's farewell, we had the feeling that we were in good hands in the Endress+Hauser family.
Thank you for the interview.
The newsletter of Analytik Jena frequently keeps you posted about:
News
Trends and developments
Events