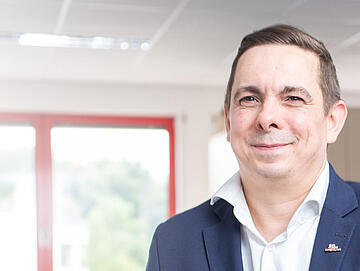 Interview Christian Wachs
Director Order Handling & Logistics
Dedication, Passion, and a Knack for Processes
Christian Wachs''s career is unusual. Despite starting under difficult circumstances, he has worked hard to achieve his professional success with great commitment and dedication. Today he is the Director Order Handling and Logistics.
Mr. Wachs, how did you come to Analytik Jena? How did it all start?
You could say that I was a bit restless in my youth. After breaking off two apprenticeships, I came to Analytik Jena in 2005 for an internship in the warehouse. This internship was only supposed to last six months, but afterward I was offered a training position as a specialist for warehouse logistics. I liked the internship so much that I immediately accepted.
What was your first impression of the Company? What did you think of the atmosphere?
I was previously employed in trade and the construction industry. Interaction with others was very rough there and you received a lot of criticism even for tiny mistakes. It was completely different with Analytik Jena. I was really impressed by the friendly atmosphere and support I received from my colleagues. Mistakes were analyzed and understood as opportunities for improvement. Everyone included me immediately and accepted me as a full team member despite my inexperience. I also noticed immediately how my work and my commitment made a direct positive contribution to the customer and the Company. That inspired me. I was also completely absorbed in logistics work. Working with ERPs and other IT systems really sparked my passion for numbers and processes.
You have taken on more and more responsibility over time. How did this come about?
I successfully completed my apprenticeship in 2009 and then worked in the incoming goods department in Jena. At that time our team was still quite small – just three people. Since 2011, I have been in charge of the shipping for the Life Science products. At that time, the Chemical Analysis and Life Science areas were still clearly separated. My colleague Sven Laslop from Process Controlling and I identified a lot of potential for optimizing logistics at that time. There were several opportunities for making logistics more efficient, streamlining processes and better organizing capacities, so we worked together to merge and reorganize the warehouses. From this initiative, the Logistics area was created in 2013 and I was entrusted with its management. Analytik Jena supported me a lot in my new role as a manager, and not just with the management training. I really felt that the Company believed in me. That was another point that impressed me. As head of logistics, I was responsible for the relocation of the warehouses to Maua and later to Schorba. Since we were closely involved with the Order Handling department, I developed a great interest in this area, especially in the processes between order handling and warehousing. In 2017, Company management asked me to lead Order Handling as well. While working, I also completed a master craftsman training (with distinction – editor's note) to become a logistics industry master and be even better prepared for my daily work.
You have been with the Company for 15 years now. How has Analytik Jena changed over time?
Overall, I think Analytik Jena has developed very positively. The various business units have grown closer together and communication between departments has also improved greatly. There is a lively exchange with each other and there are many more joint projects. The importance of the Operations area has also increased considerably.
You are now the Director Order Handling and Logistics. What issues do you deal with and what challenges do you face every day?
We look after the shipping warehouses, order handling, and take care of the demand-oriented planning of the supply and production chains, including the entire equipment planning process, spare parts and consumption planning. Our department manages the entire international order processing and shipping. In addition, we handle complaints management, export and customs control and documents management, including payment terms, delivery agreements, and the like. Due to the many areas of responsibility, we maintain very close links with other departments, such as sales, production, and product management. One more thing I would like to mention: Because of the coronavirus pandemic and the increased demand for our instruments, my team suddenly had a lot more work on the table. They mastered it brilliantly and kept cool heads even in difficult situations. Therefore, I would like to take this opportunity to thank my excellent team once again for their outstanding commitment.
What goals do you have for your areas? Where do you want to go in the future?
My goal is to automate order processing and order-related customer communication worldwide so that more capacity and resources can be invested in customer care. We are well on the way, but still have some challenges to overcome. But I am sure that we will succeed.
What motivates you? What drives you?
I have a very close relationship with Analytik Jena and I love my job. The Company believed in me and always supported me. I am eternally grateful for this and it motivates me in my daily work. I would like to give something back to the Company that has stood by me even in difficult times. Analytik Jena's success and its growth drive me. I am committed to ensuring that the Company remains successful in the future.
How do you motivate your team?
Success is the greatest motivation. My team is very interested in Analytik Jena's growth and our customers' satisfaction. If the Company is successful, this is a tremendous motivation for us all. Furthermore, it is important to me to be there for the team and to be transparent with information. Reliability is another aspect. Promises that I make, I also keep. Overall, I would like to set a good example as a manager.
What do you do to really switch off?
My wife would say that I am there for Analytik Jena around the clock (laughs). My family is very important to me. My wife and my daughter help me to switch off. Aside from that, I like to cook or take care of my plants. From time to time I also pull out my PlayStation to dive into other worlds.
Is there something – an event or personal highlight – that stands out in your long Analytik Jena career?
There were many highlights, but I'll emphasize two in particular. The first highlight is my team in Order Handling, which has developed so well over the past years and has grown closely together. The second is the move of the shipping warehouse from Maua to Bucha. Despite a short planning period, the move went smoothly without any delays in delivery times for our customers. This was a huge achievement for our logistics, purchasing, and facility management departments.
Thank you for the interview.
The newsletter of Analytik Jena frequently keeps you posted about:
News
Trends and developments
Events