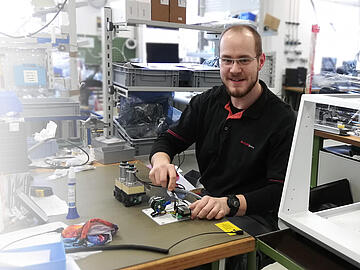 Interview Steffen Gölitz
Assembly Operator
From Trainee to Trainer
Steffen Gölitz is an assembly operator at Analytik Jena in Langewiesen. When he began his apprenticeship in 2014, he was the only apprentice at the site. Soon he will become a instructor himself to mentor future generations of apprentices.
Mr. Gölitz, how did you come to work for Analytik Jena? How did it all start?
In the fall of 2014 I started at Analytik Jena in Langewiesen as an apprentice electronics technician for devices and systems. At that time, the site was still really small and I was the only apprentice. All my colleagues at Langewiesen were my instructors, so I was able to learn a great deal about the Company and its processes. I completed my apprenticeship with very good grades (best in the class – editor's note) and was hired as an assembly operator. In the spring, I will complete a course to become an instructor so that I can provide new apprentices with similarly good support.
What was your first impression of the Company? What did you think of the atmosphere?
My colleagues were really helpful and looked after me very well. The atmosphere was very friendly. I felt like I wasn't just a number in the system and that I was very welcome there. I liked that a lot.
Can you briefly describe your work for the Company? What issues do you deal with and what challenges do you face every day?
At the moment I take care of the production of the TOC analyzers. Since I have been trained in the manufacturing of all the equipment we make in Langewiesen, I can assemble any of these systems. Recently, there was a change in the manufacturing process. The challenge was to make the manufacturing of the devices more efficient. Now there are several colleagues working on one device, which makes the manufacturing of the analyzers much easier. One or two other screws still need to be turned to further increase efficiency. But we can do it! We are constantly providing feedback and suggestions for improvement.
What do you particularly like about your work?
My work is not monotonous, but very varied. I particularly like that. It's also nice that I can get involved in process optimization and that our managers are very open to suggestions for improvement. It's great to see how an idea that I put forward is then implemented.
How has your work for Analytik Jena changed over time? How has Analytik Jena changed over time?
The Langewiesen site has grown a lot in the last few years. A lot of new colleagues have joined us. Thanks to a lot of process optimizations, we have also become a lot quicker and more efficient in production. This is a very good development.
What goals do you have? What else do you have planned for your career?
I would like to become an apprentice instructor myself and take on more responsibility in the Company. In the spring, I'll be taking further training to ensure that my future apprentices receive the best possible support from me. I would also like to improve my soft skills, which will certainly help me in my role as an instructor.
What motivates you? What drives you?
I am eager to work and I enjoy my job. I always want to deliver the best possible performance and ambitiously pursue my goals.
What do you do to really switch off?
I like to read science-fiction novels to relax and disappear into other worlds. Soccer and good music are other passions of mine that help me forget the daily routines.
Is there an event or personal highlight that stands out in your time at Analytik Jena?
The barbecue parties that we hold regularly at Langewiesen are always highlights for me. At the end of my apprenticeship, I was allowed to organize one myself. That was great. Everyone congratulated me and I was able to give something back to the colleagues and the Company who had supported me so much during my training years.
Thank you for the interview.
---
[A1]Wiederholung
The newsletter of Analytik Jena frequently keeps you posted about:
News
Trends and developments
Events