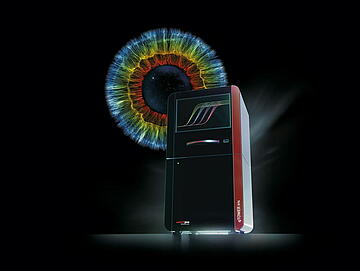 qTOWER iris: Our New Real-Time PCR Thermal Cycler
Feel Free to Explore: Clear Signals Accross the Entire Spectrum
Dream Team for your PCR Tasks
Check out our offers for qTOWER³ real-time thermal cyclers and Biometra TOne thermal cyclers
Bundle Sale – Peak Performance at a Bargain Price!
Get up to 40% discount on our TOC and AAS portfolio
Ensure Food Safety, Quality, and Process Efficiency of Edible Oils
Discover our Solutions for Edible Oil Analysis
NEW qTOWER iris

1

qTOWER³ Promo

2

TOC & AAS Sale

3

Edible Oil Analysis

4
Your Partner in Sucessful Lab Analysis
As a global and leading supplier of analytical instrumentation, molecular biology instruments, liquid handling and laboratory automation technologies, Analytik Jena empowers laboratories around the world to work quickly and successfully - from routine analysis to specialized tasks in the fields of chemistry, pharmaceuticals, medicine and life science, food safety and agriculture, water and wastewater analysis, environmental analysis and much more.
Precision and Reliability for Your Lab Workflow
At Home in Many Different Worlds
The best solutions for applications in your industry
Service and Support
We provide you with much more than just a device – Analytik Jena is also dedicated to outstanding customer service and support. In addition to installing and reviewing the analytical functionality of your systems, we are able to assist you with the qualification and validation process to ensure complete compliance with standards and regulations. Have a look into our comprehensive application support and assistance, methodological development, and training programs, all tailored to your specific requirements and needs!
The requirements, needs, and wishes of our customers serve us as a compass for our business activities. Whether in the further development of the product portfolio, questions of strategic orientation, or regarding service and support, the satisfaction of our customers is our highest priority. We provide our customers with our user knowledge wherever they need it. And we learn from them as well. A win-win situation!
Analytik Jena within the Endress+Hauser Group
Combining all of our analysis methods
As a global leader in process automation, Endress+Hauser has been a solid and reliable partner for Analytik Jena. Even with over 13,000 people around the world, the Group has remained a family-run enterprise to this day, building on strong values and clear principles. This has allowed a unique corporate culture to develop over the years. We are proud to now be a part of the Endress+Hauser family.
The newsletter of Analytik Jena frequently keeps you posted about:
News
Trends and developments
Events