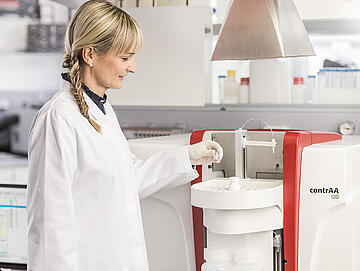 A Strong Partner for Analysis
Mon 2 Mar, 2020
"Analytik Jena was able to score high on all counts."
Dr. Steffi Traufelder, Head of the chemical analysis laboratory, IHU Geologie und Analytik GmbH, Stendal
Challenge
Provide robust solutions for routine analysis of TOC, TNb and AOX/EOX as well as for metal and mercury determination
Benefits
High sensitivity of instruments
Robust & reliable solutions
Fast service & support by experts
A Strong Partner for Analysis
IHU Geologie and Analytik GmbH (IHU) has established itself as a strong partner for contract analysis in northern Saxony-Anhalt and neighboring regions. For many customers from the public and private sectors, the chemical laboratory is the primary contact for environmental analysis, while the soil mechanics laboratory is the primary contact for geoanalytical analysis. IHU, which is known for its customer focus and high analytical quality, upholds this reputation with technology from Analytik Jena.
Highest Quality Elemental Analysis and Spectrometry
IHU's chemical laboratory covers a very broad range of methods in the areas of water and soil analysis. It is a strong regional partner for public and private customers – for example, for analyzing harmful substances in groundwater, soil, or construction waste; determining the composition of drinking water or identifying the nutrient contents of agricultural soils and sewage sludge. The laboratory is distinguished by its customer focus and the high quality of services that it offers. Many customer relationships have existed for decades. In order to ensure the technical quality of its analysis, IHU relies on the analytical measuring technology of Analytik Jena. To IHU, there is a wide variety of deciding factors for selecting the proper system. "Aside from the methodological and technical robustness of the systems, functionality is particularly important to us. Operating the hardware and software must be simple and logical. Good service by the manufacturer which provides support over the entire life of the devices rounds out the package. Analytik Jena was able to score high on all counts," describes Dr. Steffi Traufelder, Department Manager of the chemical analysis laboratory, the decision process. The IHU chemical analysis laboratory is an accredited, notified, and certified laboratory. The standards to be maintained are correspondingly high.
"An excellent total package."
Benita Fischer, Deputy Head of the chemical analysis laboratory, IHU Geologie und Analytik GmbH, Stendal
Management Facts
Robustness & reliability of Analytik Jena analyzers

Very good technology

Highly competent Service & Support

Fast reaction times and availability of Analytik Jena staff
High Standards
Today, the laboratory is successfully operating a whole range of different Analytik Jena systems. multi X 2500 type analyzers support the analysis experts from Stendal, Germany, in performing a variety of analytical tasks including AOX determination in water or sewage sludge and EOX analysis, e.g. in accordance with the German Federal States Working Group on Waste (LAGA) Guideline. TOC (total organic carbon) and TNb (total bound nitrogen) in solid and liquid samples are detected using multi N/C 2100S. For metal determination in water samples and soil extracts or soil exploration with both flame and graphite furnace technology, IHU relies on contrAA 800 series atomic absorption spectrometers (AAS). For mercury determination in various sample types, IHU is using mercur DUO Plus devices by Analytik Jena. "The devices are of very good technical quality," explains Benita Fischer, Deputy Head of the chemical analysis laboratory at IHU. "In addition, we receive quick and uncomplicated service from Analytik Jena's Service team. An excellent total package."
About IHU Geologie und Analytik Gesellschaft für Ingenieur-, Hydro- und Umweltgeologie mbH:
IHU Geologie und Analytik GmbH was founded in 1991 as an engineering office with an affiliated laboratory in Stendal, Germany. Today the company has offices at three locations (Saxony-Anhalt, Brandenburg, and Mecklenburg-Western Pomerania) and is divided into six departments. Along with chemical analysis, IHU offers engineering services as well as geological, geographical, hydrological and ecological services. At the chemical laboratory, a wide range of liquid and solid samples is analyzed for environmentally relevant parameters. The laboratory fulfills the highest standards and is registered by the corresponding environmental authorities, as well as accredited and certified by the German Accreditation Body (DAkkS). Additional information is available at www.ihu-stendal.de.
Download Key Facts & Overview
The newsletter of Analytik Jena frequently keeps you posted about:
News
Trends and developments
Events