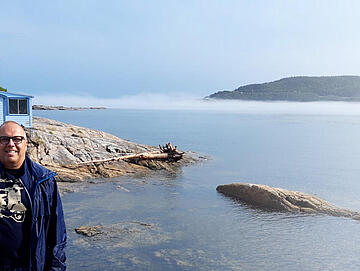 Interview Erik Verheyen
Sales & Application Specialist Benelux
"It felt right from the start"
Erik Verheyen is Analytik Jena's Sales and Application Specialist in Benelux. In our interview Erik describes how he tackles the competitive market in his region every day and how his long relationship with Analytik Jena started.
Erik, how did you come to Analytik Jena? How did everything start?
I have been working with Analytik Jena since the year 2000, first for a distributor of analytical instruments here in the Benelux that represented Analytik Jena products. I was handling the Analytik Jena instruments for this distributor. In 2015 Analytik Jena approached me to work directly for them. Since then, I am responsible for the Benelux team.
What was your first impression of the company? How was the atmosphere?
The first time I visited was around 2000. I made good contacts and had great conversations with a lot of the people at Analytik Jena. The atmosphere was very friendly, and everyone was very supportive. I had the impression that employees were not just a number and the company took good care of its employees. This felt right from the start. When I finally started working directly for Analytik Jena in 2015 this impression had been confirmed. It is a great place to work.
Please describe your work in the company. What are your tasks and what are your daily challenges?
Together with my team I am responsible for Analytik Jena's sales and application support in the Benelux region. This includes customers trainings, demos, general customer support, and service as well as attending regional trade fairs. One of our main challenges is trying to gain a bigger market share in Benelux. The laboratory market here is very dense and competitive, with a lot of big companies trying to win over customers. The task is not easy, but we have made good progress so far. We have been able to convince more and more customers of our instruments − the business is growing.
What do you like most about your work at Analytik Jena?
The people in Jena and the Analytik Jena teams in other regions are easy to reach and very supportive. Especially the collaboration with Analytik Jena France is great. For example, we use their lab for customer demos. This is very helpful in our daily business and very beneficial for our customers. I also really like the versatility of my job. It is different every day and never gets tiring or boring. Another thing I really appreciate is the direct contact with our customers. Direct feedback is crucial for continuous growth and improvement. It is very fulfilling to successfully close a sale. Nothing gives you more motivation and energy than a happy customer.
How have your tasks changed during your time at Analytik Jena? How did Analytik Jena change?
Since 2000 the company evolved quite a bit. The portfolio of products expanded significantly which is great.
The first big change for me personally was working directly for Analytik Jena in 2015. I could focus on the products more intensely than before. This was reflected in higher sales figures for the region which was very satisfying. Another significant development I noticed over the years, is the change in customer behavior. This does not only concern Analytik Jena's customers but is rather a general development. Customers are increasingly looking for information online. Appointments, the direct contact with a customer, have been shifted to a later phase of the sales cycle. High quality online content has become crucial to win an initial contact, especially with new customers. This is quite different than when I started in the industry.
Due to the Corona pandemic and the corresponding contact restrictions, a lot has changed in a short amount of time. It is difficult to meet with customers in person. We are trying to compensate this by conducting a lot of web meetings.
What are your goals? What do you want to achieve professionally?
My main goal is to make Analytik Jena an as well-known brand as our big competitors and continuously grow the business. Of course, that is a challenge. You always have to be there at the right time, especially when customers tend to stick to their traditional suppliers. My team and I are working hard to achieve this. The development so far is very positive. The number of customers is increasing, and more customers contact us directly.
Another goal for us is to increase customer satisfaction by expanding the team. With more people we can better serve all the different countries in our region and increase our response rates.
What motivates you? What drives you?
Customer satisfaction motivates the team - and me the most. There is nothing more satisfying than seeing a customer happy and getting good feedback on our products and services.
What do you do to relax?
If the weather is nice, I go mountain biking. Otherwise, I like to visit concerts or listen to music to relax. I am also very active in my local badminton club. I try to organize tournaments and keep the club running.
Is there an outstanding event or a personal highlight during your time at Analytik Jena you like to remember?
There are a lot of highlights. Every satisfied customer and every sale is special for me. On a personal level, the first highlight was shortly after I started working directly for Analytik Jena. I attended a trade fair, stood at my own booth and was presenting the Analytik Jena products. This felt very good. Another event I would like to mention was the 25-year anniversary celebration. To see, talk to and celebrate with all the Analytik Jena people from around the world in Jena was a very pleasant experience.
Thank you for the interview.
The newsletter of Analytik Jena frequently keeps you posted about:
News
Trends and developments
Events