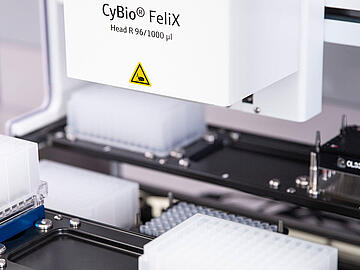 Tried and tested
CyBio systems can test large numbers of substances within a short period of time. And in response to customer demand, now they can test even more.
Analytik Jena Japan
The branch was founded in 2006 within a market featuring strong competitors. This second-largest Asian market for Analytik Jena products did, however, turn out to be a receptive one after all – after a bumpy start and a period of adaptation to the particularities of local trade there. The branch's staff of 25, based in Yokohama, are now responsible for the marketing and sales of the full range of Analytik Jena's products and providing support to a stable customer base in the country.
CyBio systems can test large numbers of substances within a short period of time. And in response to customer demand, now they can test even more.
Pharmaceutical tests can involve numbers that boggle the mind. Millions of substances are tested within a short period of time, whether as a means of finding vaccines, developing medications, or conducting biochemical and genetic research. Analytik Jena develops customized CyBio systems for fully automated ultra-high-throughput screening processes such as these. One analysis process used in these screenings is MALDI TOF MS, or matrix-assisted laser desorption mass spectrometry, which functions completely without the use of dyes, antibodies, or radioactive elements.
The industry commonly places its samples on microwell plates with 1,536 wells per plate. Analytik Jena has now, however, worked together with a Japanese customer to create a process supporting smaller sample sizes to increase densification. This allows for an increase in samples per plate to be analyzed with MALDI TOF MS. The system went into operation in 2019.
"The decision made to invest considerable funds into this innovation arose from a trust in our technology and experience," explained Yukihiko Abe, who is in charge of liquid handling systems at Analytik Jena Japan. The customer involved has already been using CyBio systems for years and, as Abe added: "They are counting on our continued support for the modernization of their processes."
In Japan …
... you can't expect English to be spoken.
While English is mandatory in school, the focus is mostly on reading and writing. So your partners may be able to tackle an Analytik Jena service manual – or even Shakespeare – but might not be able to communicate in spoken English. Even if Japan may differ from other Asian countries in that regard, it does not seem to have been a particular obstacle to the rise of its economy.
... you can enjoy a wide range of delicious food.
Japanese cooking is an art form that extends well beyond sushi and sashimi to include udon wheat noodles, grilled yakitori chicken, tempura, soba buckwheat noodles, unagi grilled eel, and much, much more. This can all be enjoyed with a nice cup of sake or a glass of Yamazaki whisky, which was named the World's Best Whisky of 2015. And the world's only Cupnoodle Museum is located not far from the Analytik Jena office in Yokohama!
... there's a highly effcient public transportation network.
Yes, there are times when subway and commuter trains may be reminiscent of oversized sardine cans. But public transportation in major cities like Tokyo and Osaka is the fastest way to reach any local destination – while the high-speed Shinkansen train will take you all across the country, and straight to the company's customers. Cars are less helpful when it comes to travelling through cities, and taxis can be very expensive.
In my element
Yukihiko Abe
Manager Liquid Handling Systems, Yokohama
Workwise, I'm in my element …
when users are satisfied with our products and support, and when my colleagues achieve good results.
Privately, I'm in my element …
when I spend time with my family and get to see my children grow.
For the anniversary …
I'd bring some Japanese sake.
Kyoko Matsuno
Group Leader, Chemical Analysis Applications, Yokohama
Workwise, I'm in my element …
… when we're able to solve customer problems as a team and when our customers are satisfi ed with our products and technology.
Privately, I'm in my element …
… when playing the cello in my orchestra. I've been in an amateur orchestra for 20 years. It's great fun to play the music of various composers with a large number of friends.
For the anniversary …
… I'd bring Japanese dishes that go very well with Japanese sake (provided by Abe-san).
The newsletter of Analytik Jena frequently keeps you posted about:
News
Trends and developments
Events