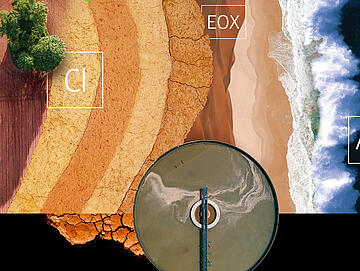 Opportunities of Overall Halogen Determination
Tue 11 Oct, 2022
Opportunities of overall halogen determination
To protect the environment and the organisms that live in it, numerous laws and standards regulate the testing of water, soil and air for halogens or their organically bound forms as sum parameters. Halogen determination is also well established in the context of waste disposal or utilization (incineration, chemical or thermo-chemical recycling).
The determination of total element contents is particularly important in quality control in the chemical and petrochemical industry. Organic and inorganic chlorine compounds can prove damaging to equipment and reactions in processes involving hydrocarbons, which is why the total content of both species is most suited to efficient process safety and product quality assurance. The determination of total contents is used in:
Quick risk assessment (e.g., oil production)
Prevention of catalyst poisoning and corrosion (e.g., petrochemical industry)
Adjustment and efficiency control of industrial treatment (e.g., desalination, refinery process)
Emission reduction (e.g., power generation, thermal recycling)
Quality control of final products (hydrocarbons, LPG)
Whitepaper Fundamentals Halogen Analysis
Learn more about the basics of halogen determination in "Fundamentals: Instrumentation and Techniques of Halogen Analysis".
The peculiarities of halogens
The halogens fluorine, chlorine, bromine, iodine, and astatine together form the 7th main group of the periodic table of elements. Fluorine and chlorine are gaseous substances, bromine is a liquid, and iodine and astatine are solids.
Halogens do not occur as elements in nature, but play an important role in the human and animal organism. They are used in medicine, and in the chemical industry to synthesize a wide variety of halogenated organic substances with diverse fields of application. Certain halogen compounds are essential dietary components for humans, and their detection in certain foods is therefore necessary. This also includes drinking water, in which fluorine (fluoride) and chlorine (chloride), for example, must be determined.
The number of synthetic organic halogen compounds is almost unimaginable. In manufacturing processes, it is essential to analyze raw materials and intermediate products with the analysis often being targeted at the specific halogen. Elemental analysis is also used for the quality control of the halogenated final product. However, a large number of halogenated substances are harmful to humans and nature. This results not least in the need for their quantitative detection, either as a single element, as a halogen sum parameter or as a specific halogen compound.
Element determination or sum parameter?
In recent decades, the need to obtain reliable, cost-effective analytical data on the quality of media and products as well as for process control has steadily increased. This applies to environmental monitoring (surface water, groundwater, soils) as well as to water treatment (drinking water, wastewater), but also to quality control in the chemical or pharmaceutical industry. In this area, sum parameter analysis has become indispensable.
Single substance analysis reaches its limits with highly complex matrices such as wastewater or waste. Apart from the considerable effort involved, it is not always possible, even with chromatographic methods, to capture the multitude of all (especially organic) constituents. In addition, the amount of data obtained is very large and cannot always be interpreted sufficiently for an evaluation.
However, the importance of the individual sum parameters and their application is quite different and depends on international, national, and industry-specific regulations. The limits of sum parameter analysis result from the fact that they are convention parameters. This means that they are defined solely by the determination procedure itself.

AOX and related sum parameters
AOX: Adsorbable organic bound halogens
The AOX is a sum parameter that describes the contamination of water, sewage sludge, and soils with organic halogen compounds. The main field of application is wastewater analysis. In English-speaking countries, the parameter AOX is also commonly referred to as TOX. The method for determining AOX/TOX is regulated worldwide by a large number of standards. The international standard ISO 9562 is, along with ASTM and EPA methods, the convention most frequently used for the determination of AOX.
EOX: Extractable organically bound halogens
The EOX represents the organically bound halogens chlorine, bromine, and iodine (but not fluorine) contained in a sample, which can be extracted during an extraction with a non-polar solvent and detected during subsequent combustion of the extract. The EOX determination is mainly used to analyze solids (waste of all kinds, e.g., excavated soil, construction waste), but sometimes also for the analysis of water. The determination of EOX is characterized in specific standard procedures.

Sample preparation: The key is in the method
For AOX determination, a defined amount of the sample is brought into contact with special AOX activated carbon to achieve an accumulation of the species of interest. Basically, two methods are available for enrichment on activated carbon: the batch method or the column method. While batch method is often the method of choice, it is very tedious and requires the full attention of an operator. Also the total time per sample is not predictable, especially when particle-containing samples need to be analyzed. When applying the column method in turn, particle-rich samples can be properly analyzed. It offers different degrees of automation and reduces handling steps and likely errors. This makes AOX results more comparable and saves time in your lab work, as well as costs for analysis.
Sample preparation for EOX determination is based on extraction of the sample using a non-polar solvent. Liquid-liquid extraction in a separating funnel is performed for aqueous samples. Soxhlet extraction should be used as an efficient method for solid samples with multiple extraction cycles. However, simple stirring methods or ultrasonic extraction are also used in routine laboratory work due to their greater ease of use and less costs. The completeness of the extraction must be critically evaluated here. The solvent extract obtained is usually concentrated to a defined volume to be able to detect even very low concentrations of EOX.

For comprehensive, fast, and precise halogen determination
Proper sample preparation plays an important role in halogen determination. As it can be time-consuming and error-prone, a non-optimized procedure can limit sample throughput. Analytik Jena's portfolio of matrix-, application-, and throughput-optimized sample preparation systems enables maximum throughput with minimal operating effort. Reduced downtime, durable hardware, and minimal maintenance also play an important role.
Our APU 28 connect for the preparation of liquid samples by column method combines user-friendliness and speed. The instrument allows automatic enrichment of up to 28 samples by column method and is easy to operate via a touch display. The APU sim is ideal for small sample numbers. It offers simultaneous enrichment of up to 6 samples by column method and can handle particulate and saline samples without any problems. For the analysis of solid samples (e.g., sludge, sediments), the AFU 3 enables the semi-automated preparation of up to 3 samples using the batch method. It also offers an excellent alternative to classic membrane filtration.
An efficient setup for AOX analysis is the multi X 2500 together with the APU 28 connect and the autoX 112 autosampler. This configuration allows the processing of 112 samples in 24-hour operation. The multi X 2500 is universally applicable for the analysis of samples prepared by column or batch method. Other applications include EOX, POX, determination of TOC in wastewater, and TCl in organic solids and liquids.
The newsletter of Analytik Jena frequently keeps you posted about:
News
Trends and developments
Events