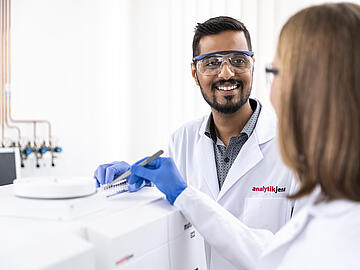 Determination of Smallest Traces of Chlorine in Organic Matrices
The new high sensitive chlorine option: Available for multi X 2500 and multi EA 5000
Easy Chlorine Determination
Upgrade to boost your chlorine analysis!
Simplify the determination of low chlorine concentrations with the multi EA 5000 and multi X 2500. By upgrading to our new sensor electrode, you will secure numerous advantages:
Reduced operating costs
Minimized maintenance and downtime
Environmentally friendly due to absence of mercury*
Extended lifetime of the electrodes
Easier handling and cleaning
Faster readiness for measurement
Dry storage prevents damage
* Proper disposal of Hg-containing electrodes, additional costs may be charged.
Watch the video and discover all advantages!
Upgrade now!
Switch to mercury-free chlorine analysis today for the good of the environment: Better performance and sustainability included. The upgrade is available for all generations of the multi X 2500 and the multi EA 5000 working with the high sensitive option for chlorine or EOX analysis. The multi EA 5100 is standardly equipped with the new high sensitive electrode.
Boost your chlorine analysis in environmental monitoring, petrochemical applications, and food and agriculture quality control. Applications include edible oil amd palm oil analysis, fuels, aromatic hydrocarbons (ASTM D5808 in refineries), paper recycling and production (ISO 11480), or EOX determination in waste.
For more information, contact your local sales representative or fill out the contact form below.
Remember: When ordering, please enter the promotional code CLOHG
The newsletter of Analytik Jena frequently keeps you posted about:
News
Trends and developments
Events