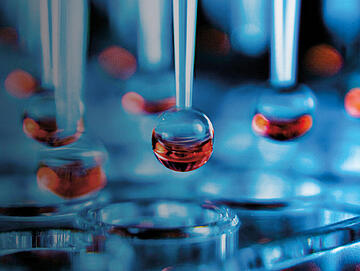 Automation Solutions
Customized Integration – Tailored to Your Needs
Destination Lab Automation
Destination Lab Automation stands as a milestone for liquid handling and lab automation because we add substance to all the talk about the potential of lab automation for the pharmaceutical and life science industries. With strong customer focus and deep market experience, Analytik Jena with its CyBio product line is a leading brand for high quality liquid handling and automation technologies. Our products enjoy the highest reputation for precision, reliability, robustness and simplicity.
Experience the variety of automation using excellent liquid handling
Explore Analytik Jena's pathway of integration/automation possibilities
Choose your degree of automation and reliable liquid handling at the highest flexibility from stand-alone up to fully customized robotic systems
Open platform, small footprint, reliable technologies, individual solution
Get a reliable automation platform in the smallest footprint
Our Automation Team designs, produces and installs fully automated systems tailored to our customers' application, throughput and capacity requirements.
Breadth of Integration Concepts
No matter if your research is still mainly manual or you are an experienced automation user, our solutions can help to increase your pace of discovery. We combine expertise with personalized service, powerful software and proven third party products to create fully integrated systems. Our goal is to help you meet the increasing demands of your research with high quality, high-throughput solutions that boost productivity and enable true walk-away automation.
Applications
Drug Discovery
Assay development
Compound management
Primary screening
Secondary screening
ADME/ Tox
Biotech
Molecular biology
Synthetic biology
Plate coating
Proteomics
Genomics
Biochemistry
"We are ready to listen to your needs. Depending on your application and degree of automation, we are happy to consult with you to choose the most appropriate format from a range of different integration concepts. Take advantage of Analytik Jenas experience in lab automation, where we have stayed focused on our customers."
Manuela Beil-Peter, Director Business Unit Liquid Handling and Automation
Instruments with Superior Quality and Reliability
Analytik Jena manufactures a range of precision liquid handling and plate storage instruments with a comprehensive set of functional modules that form the base of fully automated integrations covering all discovery applications.
Next Generation Software Solutions
Whether in pharmaceutical research, environmental protection, food safety, or the chemical industry, more and more lab processes are being automated. Analytik Jena offers a wide range of software solutions for this. From the semi-automatic control of an individual lab instrument to a fully-automated, robot-assisted high-throughput system, a suitable automation platform is available for virtually every application.
Application Expertise
We are proud to be able to provide the most reliable and precise instruments, yet we understand that perfect customer satisfaction is only possible by bringing hardware, software and application know-how together. Our application specialists are always prepared to discuss your individual application needs.
We offer:
Hands-on trainings and demonstrations
Customer specific performance tests and evaluations
Applications consulting
Assistance during assembly and testing of automation systems
In addition to the direct and specific support, our application team has conducted a variety of tests and published their
findings and recommendations amongst others in a range of freely available technical notes.
Professional Project Management
Your demands are many-sided and complex. Our automation experts are trained to develop innovative and competitive solutions meeting your requirements. A specifically assigned project manager will help you throughout the whole project, from the first consulting to the running system until final installation and testing. Professional planning, including clearly defined responsibilities and milestones, is the basis for our tailor-made solutions being delivered on schedule.
Comprehensive Service and Support
Our service staff delivers preventive maintenance and calibration visits according to our strict performance
requirements.
Operator training including application support on-site or at our facilities
Software upgrades with installation and training
Unlimited phone support
Worldwide service network
Factory trained field service engineers
24-48 hour on-site service response
We are your reliable partner! Contact our Automation team.
+49 3641 77 9481
sales@analytik-jena.com
The newsletter of Analytik Jena frequently keeps you posted about:
News
Trends and developments
Events