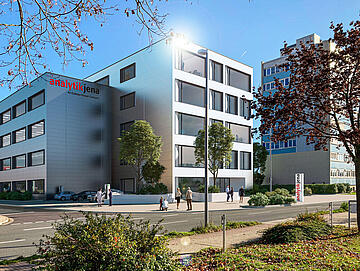 Investment in a modern working environment
New construction projects at our locations in Jena and Ilmenau
New building in Jena
A new main campus building for Analytik Jena will be built at the foundation site in Jena, expected by fall 2025. Together with the Endress+Hauser Group, Analytik Jena is investing in a new 24-meter-high building that will provide space for production and storage areas, offices and laboratories to develop and manufacture laboratory equipment.
"This will create the basis for our future growth so that we can serve our customers in an excellent manner."
Oliver Klaeffling, Managing Director of Analytik Jena GmbH+Co. KG
Regarding sustainability, the new five-storey building includes photovoltaics, water and heat will be reused and the roof will be greened. Analytik Jena is also relying on regional partners and local resources.
"We consider ourselves fortunate to have found a solution that enables a future at the well-connected existing site in Jena-Göschwitz and will offer our employees excellent working conditions."
Grit Petzholdt-Gühne, VP Human Resources and responsible for the project on the Executive Board
approx. 15,000 m²
net floor space
approx. 45 Mio. EUR
investment
550 workplaces
at campus in Jena
New building in Ilmenau
Over the next few years, a new building will be constructed at our long-standing production site in Ilmenau, which will be home to the development and production of our measuring devices and sample prepatation for sum parameter and elemental analysis.
In the Ilmenau Ehrenberg industrial area, the new building will create space for modern workplaces in development, production, logistics, laboratories and offices on an area the size of a soccer pitch.
"We are pleased to be able to achieve several key goals with the new building. We are generating space for further growth and the opportunity to bring our two Ilmenau sites under one roof."
Bertram Eichhorn, Site Manager Analytik Jena Ilmenau and head of the building project
The "Am Ehrenberg Ost" industrial park, which is currently experiencing strong growth, offers ideal conditions for an excellent CO2 footprint thanks to the supply of local district heating from biogas. Supplemented by photovoltaics as well as a green roof and green facade, the new building is very well prepared for the future.
"With the new building, we are making the leap towards an innovative and attractive working environment within walking distance of Ilmenau University of Technology."
Grit Petzholdt-Gühne, VP Human Resources and responsible for the project on the management board
approx. 10,000 m²
net floor space
approx. 25 Mio. EUR
investment
160 workplaces
at site in Ilmenau
The newsletter of Analytik Jena frequently keeps you posted about:
News
Trends and developments
Events