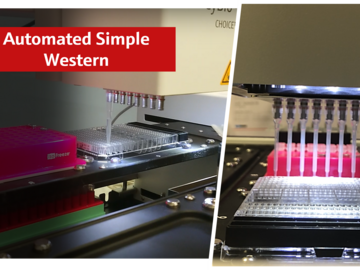 Automated Simple Western setup
Application Overview
Protein Simple's Simple Western allows the automation of Western blotting and multiplexing with other measurement types such as chemiluminescence. While the workflow steps are simple, the number of materials and small volumes requires precise pipetting to avoid bubbles and incorrectly filled or missing wells. This makes the workflow vulnerable to errors and hands-on time consuming, even for experienced users.
The Simple Western workflow is ideally suited for automation. The CyBio FeliX boasts the high accuracy, precision and flexibility essential for reliable performance and production of reproducible results. The removal of hands-on time eliminates user error and frees up precious operator time.
Need help getting started? Our UK automation experts are on hand to customize and deploy our solutions to meet your needs.
Benefits of automating with the CyBio FeliX
---
Enhanced reproducibility

Maximum accuracy and precision to 1 µl

Eliminate human error

Minimize hands on time

Quick and easy to setup
Our automated solution: Simple Western FeliX
The Simple Western FeliX has been preconfigured with all the required on-deck accessories best suited to most Western formats. Contact us to discuss your Simple Western solution, and tailor it to your exact process.
| Order Number | Description |
| --- | --- |
| OL5015-24-100 | CyBio FeliX Basic Unit with Enclosure - for flexible pipetting in 1 - 384-channel operations |
| OL3316-14-250 | CyBio FeliX CHOICE Head |
| OL3316-14-330 | 8-Channel CHOICE Adapter; 10 µL -1000 µL |
| OL3316-14-332 | 8-Channel CHOICE Adapter; 1 µL - 50 µL |
| 844-00430-0 | Waste Box |
| 844-00445-0 | Height Adapter 40 mm |
| 844-00136-0 | Adapter 24 tubes, passive cooling function |
| 844-00135-0 | Adapter 96, passive cooling function |
FeliX fits your Simple Western workflow
While the Simple Western procedure is mostly standard, the CyBio FeliX gives you the flexibility to tailor your plate preparation including the sample preparation steps, antibody and reagent combinations and even the number of plates to prepare per run.
The FeliX uses data from Protein Simple's Compass software to understand which antibodies and reagents need to be used with each sample. Samples can be provided in tubes or plates, and you can choose to either pre-prepare them or get the FeliX to normalise them ready for use. DTT, master mix and ladder are prepared automatically before all the reagents are transferred into the assay plate, including the Peroxidase/Luminol reagent (if desired). If there are unused wells in the plate, the FeliX can be instructed to automatically add buffer or another material to these wells. With the plate filled with reagents, the samples are carefully dispensed into the wells of the assay plate ready to run.
Tailor your workflow steps:
Want help automating your Simple Western setup? Get in touch with your current or desired workflow, and we can help migrate it to an automated solution. Ask us about:
Sample dilution and preparation
Reagent preparation and transfer
Automatic filling of unused wells
Bubble-free sample transfer
The CyBio FeliX makes Simple Western even simpler
"At Aurelia Bioscience we use the CyBio FeliX for accurate protein normalisation and mistake-free preparation of Simple Western™ JESS – an automated western blotting technique. The support from Analytik Jena to develop such a complex liquid handling method has been fantastic making them an excellent partner."
Dr. Ryan Mordue, Senior Research Scientist, Aurelia Bioscience – A Charnwood Molecular group company.
How to automate your Simple Western on the CyBio FeliX
Multiple sources of variability exist in automating sensitive applications such as the Simple Western procedure. The CyBio FeliX provides a range of liquid handling techniques to eliminate variation, regardless of sample inputs or plate types. Some of these steps are highlighted below.
Preparation of samples
With a volume range of 0.5 to 1000 µl, the Choice pipetting head can precisely handle your sample and any dilution required. Automating this process starting directly from your tubes or plates minimises the risk of user error and produces reproducible data day after day.
A popular choice is to supply these reagents in microfuge tubes directly to FeliX, with on-deck cooling options available.
FeliX Tip; Prepare your run in Compass and give this file to the FeliX to prepare your samples !
Dispensing of reagents, including antibodies
Ensuring the precise dispensing of all reagents to the plate is critical to good results. The CyBio FeliX is ideal for dispensing reagents to the plate rapidly by multi-dispensing with a single tip. Each Primary and Secondary antibody can be added in turn to multiple wells, reducing the time required while ensuring the right antibody is in the right well
FeliX Tip: Aspirate a large volume and reverse pipette reagents for a quick and accurate setup !
Preparing Master mix and sample transfer
Fine pipetting control allows master mix to be aggressively pipetted for effective mixing but then gently dispensed to ensure that the right volume is added to each sample. The final sample transfer steps are performed carefully via reverse pipette, ensuring precise delivery while avoiding any risk of trapping bubbles in the wells
FeliX Tip; Dispense expensive reagents single tip then switch to multi-channel to get the best of both worlds !
Take control of your automation
Benefit from the flexibility of the CyBio FeliX and design workflows that are suited to your particular needs. Set up Simple Western assays from a range of sample containers, and scale your automation to generate multiple Jess & Wess-ready plates.
Our intuitive application studio software allows users to update their plate setups application on the fly. Possible parameters to change at method start includes:
Where to get Sample data

How Samples should be prepared

If Peroxidase/Luminol is added (or not!)

Which steps the FeliX should perform
And much more !
The newsletter of Analytik Jena frequently keeps you posted about:
News
Trends and developments
Events