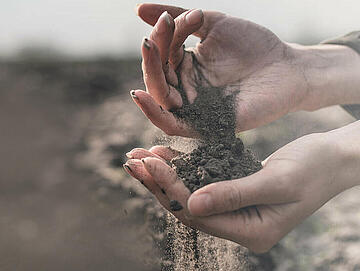 Analysis of Solid Matrices
Assessment of agricultural soil fertility
Analysis of soils from contaminated sites
Waste monitoring for waste management facilities
Testing of sewage sludge
Analysis of sediments from natural waters
We offer solutions for a quick and reliable assessment of solid samples such as soils, sludges, or waste products. Compliant standard methods and robust analytical equipment help you save time and effort.
Minimal sample preparation efforts
Direct analysis of solid matrices (TOC, TS, TX)
High sample weigh-in for solids (TOC, TS, TX)
Microwave digestion
Special sample preparation systems for sludges
Dependable results for complex matrices
High-resolution multi-elemental analysis (ICP-OES)
Reliable background correction (AAS)
Optimized EOX analysis
Intelligent automation options
Continuous safety control (Self Check System)
Minimal maintenance requirements Stable
Analyze with us
Total organic carbon and elemental carbon
TOC/TNb
Adsorbable organic halogens, total halogens, and extractable organic halogens
AOX
Carbon, halogens, and sulfur
C/N/S/X
Major, minor, and trace elements
AAS, ICP-OES, ICP-MS
Toxic elements, e.g., chromium, cadmium, mercury, lead
AAS, ICP-OES, ICP-MS, CV-AAS/AFS
Our solutions for solids testing allow you to speed up sample preparation and also increase the accuracy of your analysis re-sults. Our measurement devices are ideal for domestic and industrial waste products such as soils from excavations and farm land or sediments and sludges from sewage plants, including hazardous and toxic substances.
Applications for analysis of solid matrices
The newsletter of Analytik Jena frequently keeps you posted about:
News
Trends and developments
Events