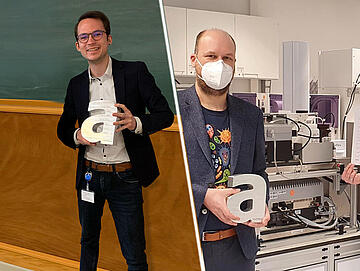 Analytik Jena Science Award 2020
Tue 16 Mar, 2021
Dr. Daniel Bäcker and Dr. Geoffrey A. Behrens receive 2020 Analytik Jena Science Award
For the second time since its initial presentation in 2019, Analytik Jena is honoring extraordinary scientific accomplishments in the areas of chemical analysis and molecular biology with the Analytik Jena Science Award. Winners in 2020 are Dr. Daniel Bäcker for his analysis of oncologically relevant substances with anti-tumor active metal complexes and Dr. Geoffrey A. Behrens of DKMS Life Science Lab GmbH, who won over the jury with his work on a new method for the determination of CMV.
"With our equipment and solutions, we are also partner of the scientific community. We see the fact that we contribute directly to pioneering research as both validation and motivation. The Science Award makes parts of these results visible to us as well as to the general public," says Ulrich Krauss, Managing Director of Analytik Jena GmbH.
"Both prizewinning works impressively demonstrate ways in which Analytik Jena's solutions are used for outstanding scientific research and to resolve previously unsolved diagnostic problems," says Dr. Robert Möller, Project Manager in Product Development at Analytik Jena and member of the expert jury. "They show new possible applications for existing devices and analysis methods and also give striking examples of the potential of our existing technological solutions."
The work of Dr. Daniel Bäcker et.al. (i), which was carried out at the University of Innsbruck as part of his doctoral thesis, was awarded with the Analytik Jena Science Award in the category of "Chemical Analysis." In their papers, the authors describe the research on oncologically relevant substances with anti-tumor active metal complexes and aspirin as a substructure. They are studying the influence of fluorination on the improvement of bioanalytical sensitivity and selective antitumor activity.
"This work builds an impressive bridge between the biochemical and cytological methods and atomic absorption spectrometry," the jury declared in supporting its decision.
A work by Dr. Geoffrey A. Behrens et.al. of DKMS Life Science Lab GmbH (ii) was honored in the "Molecular Biology" category. The work describes verification of a CMV infection (cytomegalovirus) through the detection of specific antibodies. An automated ELISA analysis of the samples is used for this in the laboratory. This allows for a quick analysis of large numbers of samples under defined conditions.
Further confirming its decision, the jury stated: "This work provides an important solution approach to automated testing of the immune status with dried buccal swabs."
Chemical Analysis Category
(i) Daniel Bäcker, Victoria Obermoser, Elisabeth Anna Kirchner, Andrea Hupfauf, Brigitte Kircher ORCID, Ronald Gust ORCID: "Fluorination as tool to improve bioanalytical sensitivity and COX-2-selective antitumor activity of cobalt alkyne complexes," published in "Dalton Transactions," 2019.
Molecular Biology Category
(ii) Geoffrey A. Behrens, Michael Brehm, Rita Groß, Jana Heider, Jürgen Sauter, Daniel M Baier, Tatjana Wehde, Santina Castriciano, Alexander H Schmidt, Vinzenz Lange: "Noninvasive Determination of CMV Serostatus From Dried Buccal Swab Samples: Assay Development, Validation, and Application to 1.2 Million Samples," published in "The Journal of Infectious Diseases," February 2020.
Additional information on the awarded research and the Analytik Jena Science Award can be found at https://www.analytik-jena.com/award/.
Images
Dr. Goeffrey A. Behrens and scientists of DKMS LIFE SCIENCE LAB receive Analytik Jena Science Award 2020 in Molecular Biology Category
Download file
The newsletter of Analytik Jena frequently keeps you posted about:
News
Trends and developments
Events