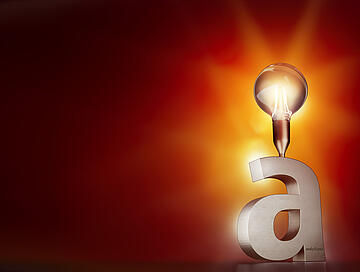 We look forward to receiving your submissions!
Analytik Jena Science Award 2021
Have you conducted research with the help of our products? We'd like to know more! Let us know how your research work has tied into our equipment, kits, and reagents. Our annual Science Award for academic publications is awarded in two categories: chemical analysis and molecular biology.
Our call for submissions is geared toward raising the visibility of research using our equipment and technologies – especially when it comes to potential applications that will open up new avenues for future developments. Please send us your submissions if you have used Analytik Jena products to achieve new findings or applications and have published on it in the past three years.
Who can apply for the Analytik Jena Science Award?
Participation in the Analytik Jena Science Award is open to individuals and organizations across industries in business, science, and the public and non-profit sectors.1
What scientific articles can be submitted?
The following scientific articles can be submitted:
Scientific articles that have already been published, standard operating procedures or comparable unpublished results, or scientific contributions in German or English
Concerning the use and application of at least one Analytik Jena GmbH device or product (e.g. devices, kits, consumables ...) in the categories of analytical chemistry and/or molecular biology
Which have been written within a period of three years prior to the application deadline, multiple filifng is possible1
All applications are evaluated by an expert jury comprised of representatives from science and/or business (e.g. experts from universities, specialist media) as well as employees of Analytik Jena GmbH (e.g. employees from the Research & Development and Application departments). The best scientific articles will be awarded prizes.
How and until when can I apply?
Please fill out the
Application Form
The application deadline is Friday, December 31, 2021.
Winners will receive a personal premium to a value of € 1,000 for personal use. 1
Winner of Analytik Jena Science Award 2020
Everything was different in 2020. Given the current situation, it wasn't possible to hold the award ceremony as a live event as it usually would have been the case. Everything ended up delayed – from the announcement of the winners to the presentation.
Best Scientific Paper in the Area of Chemical Analysis: Dr. Daniel Bäcker, Pharmaceutical Chemistry, University of Innsbruck
Fluorination as tool to improve bioanalytical sensitivity and COX-2-selective antitumor activity of cobalt alkyne complexes
In its justification of its decision, the jury stated:
The authors describe their research on oncologically relevant active substances with antitumor-active metal complexes and aspirin as a substructure. They examined the influence of fluorination on improvements in bioanalytical sensitivity and selective antitumor activity. It was shown that the HR-CS MAS technology is a highly sensitive method for the quantification of fluorinated cobalt complexes.
In the future, this approach could potentially become particularly suitable for the analysis of other fluorinated substances in biological samples.
This work builds an impressive bridge between the biochemical and cytological methods and atomic absorption spectrometry. It also indicates that microtiter plate technology is becoming increasingly important for AAS.
The paper was published in "Dalton Transactions" 2019 .
Best Scientific Paper in the Area of Molecular Biology: Dr. Geoffrey A. Behrens, DKMS Life Science Lab GmbH
Noninvasive Determination of CMV Serostatus From Dried Buccal Swab Samples: Assay Development, Validation, and Application to 1.2 Million Samples
In its justification of its decision, the jury stated:
Determining immune status was a challenge for medical diagnosis even before the current COVID-19 crisis. Especially for sample drawing in nonclinical environments and for the automation of subsequent analyses, there have only been few methods available to date. This paper successfully demonstrates a method for identifying CMV infection (cytomegalovirus) through the detection of specific antibodies. The methodology described by the authors makes it possible to detect specific antibodies to CMV from dried buccal swabs with the necessary sensitivity and specificity. CMV serostatus can be successfully determined by means of completely automated analysis, which involves the use of several Analytik Jena devices (CyBio FeliX, Stacker CyBio QuadStack L, CyBio QuadPrint). This paper therefore provides an important concept solution for the automated testing of immune status using dried buccal swabs.
This paper was published in "The Journal of Infectious Diseases" on February 13, 2020.
Winner of Analytik Jena Science Award 2019
With this award, Analytik Jena is honoring scientific articles in which Analytik Jena products have been used find solutions for particularly challenging applications. The award is being presented for the first time at Analytik Jena Days 2019.
Best Scientific Paper in the Area of Chemical Analysis: Dr. Carlos Abad Andrade, BAM Berlin
Determination of boron isotope ratios by high-resolution continuum source molecular absorption spectrometry using graphite furnace vaporizers
In its justification of its decision, the jury stated:
Dr. Carlos Abad and his co-authors studied the measurement of boron isotope ratios using the High-Resolution Continuum Source Atomic Absorption Spectrometer contrAA from Analytik Jena in a graphite furnace. However, molecular absorption is used in AAS instead of atomic absorption. The special molecule is generated directly in the furnace by adding a molecularization reagent. The use of the contrAA made it possible to successfully measure isotope ratios using AAS for the first time. The isotope ratio was measured with an accuracy and precision comparable to ICP-MS, even though the equipment costs for AAS are significantly lower than the ICP-MS multicollector that would otherwise be needed.
The paper appeared in September 2017 in "Spectrochimica Acta Part B" published by Elsevier-Verlag.
Best Scientific Paper in the Area of Molecular Biology: Natalie Rangno, IHD Dresden
In its justification of its decision, the jury stated:
Natalie Rangno and her co-authors studied the importance of automated DNA extraction for the diagnosis of wood-destroying fungi for the purposes of wood and building preservation. In light of the unsuitability of existing extraction systems for plants, yeasts, and bacteria due to the insufficient quantity and poor quality of the extracted DNA, various protocols were optimized for the purification of fungal DNA from wood samples and successfully tested on an automated extraction system. The work produced an automated extraction process using chemical purification methods and the automated Innupure C16 platform from Analytik Jena, which enabled fungal DNA to be isolated from real-life samples to then be used for diagnosis.
The paper was published in "Holztechnologie 57 (2016) 6".
Do you need further information? Get in touch with us!
+49 3641 77 7441
seminar@analytik-jena.de
The newsletter of Analytik Jena frequently keeps you posted about:
News
Trends and developments
Events