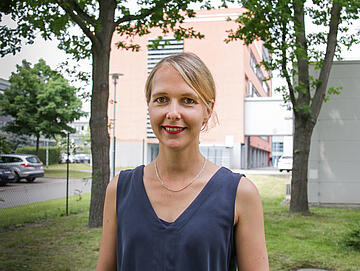 5 questions to ... a Specialist Marketing
Mandy Schnacke-Albrecht, Specialist Marketing
In our format "5 Questions to ... a Specialist Marketing" we introduce Mandy Schnack-Albrecht today. She is a Specialist Marketing at Analytik Jena.
Whats your name and job Analytik Jena?
Hello, my name is Mandy-Schnacke-Albrecht, I am a Specialist Marketing and have been with Analytik Jena for 1.5 years.
Was sind Ihre Aufgaben als Specialist Marketing?
The tasks are very versatile. On one side it is about putting the products in the best light, getting the most out of them and stand out from the competition. We determine the target groups precisely and put together suitable content, in order to address the customers directly. Marketing has many areas. On one side the creation of print media, pictures and product videos, we are also responsible for the website and organize web seminars. In addition to sales, marketing is the mouthpiece to the customer.
What do you like most about working at Analytik Jena?
I think it is great, that you can work with many different stakeholder groups, for example sales, product management and application. So you also have a lot of responsibility.
What does a typical weekend look like for you?
I like to be outside in nature. I love to hike and around Jena there are many possibilities, e.g. in the mountains or along the Saale river. The scenery is very versatile!
What do you wish for your future at Analytik Jena?
In the marketing team we work together very closely every day, so I am looking forward to see each other in the office again after the pandemic.
Thank you very much for the interview!
We would like to meet you! Are you interested? Our Jobportal together with Endress+Hauser offers many exciting opportunities. We look forward to getting to know you.
The newsletter of Analytik Jena frequently keeps you posted about:
News
Trends and developments
Events